Bonus promotion Buz Mark Ex
Secure 25% price advantage! Only for a short time: 4 for 3!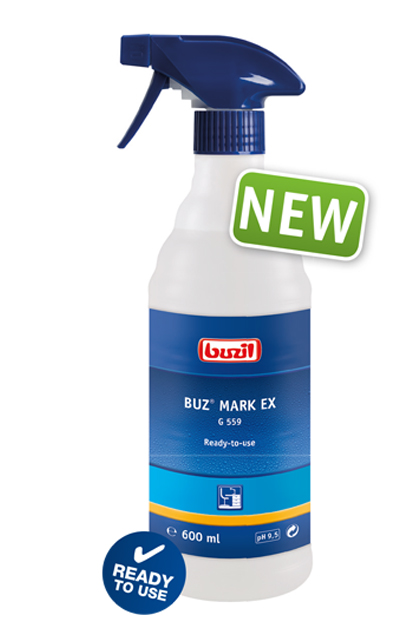 Survace and plastic cleaner: BUZ MARK EX G559
► INTENSIVE CLEANING EFFECT - HIGHLY MATERIAL-COMPATIBLE
Fields of application
• For solvent-resistant materials and surfaces like plastics, tables, keyboards, doors, whiteboards, etc.
• Easily removes marks made by pencil, ink, felt-tip pen, marker, ballpoints and stamping ink, as well as sticky label residue
Product advantage
• Intensive cleaning performance
• Very strong removal power on water-insoluble soiling
• Highly material-compatible thanks to moderate pH value
• For selective cleaning
• Pleasant fragrance
Conditions of participation
The bonus promotion Buz® Mark Ex G 559 is only valid for the 600 ml spray bottle. You get from July 1st until August 31th, 2018 25% price advantage. You only need to pay 3,but you get 4 containers (1 PU) 600 ml. Please contact your sales representative for further information. The terms of delivery and payment apply of BUZIL-WERK Wagner GmbH & Co. KG.