Professional cleaning solutions

Efficient, safe and fast – Buzil does an expert job.
From office cleaning to industry-specific applications in industrial, hotel, catering, to nursing and care facilities: the regular cleaning of flooring, sanitary facilities, surfaces and technical equipment is a significant economic factor and an important issue in business and in public and private spaces. After all, only professional cleaning that protects both materials and the environment will help preserve the value of the object being cleaned and ensure it continues to function perfectly. But how can this task be achieved day after day as efficiently, safely and quickly as possible? In answer to this question, Buzil has put together an extensive range of cleaning, care, hygiene and disinfectant products and offers professional product solutions to meet virtually all requirements in the commercial cleaning sector.
The Buzil colour coding system denoting the appropriate areas of application makes the process of selecting the correct product especially efficient and safe. Thanks to distinctive colour codes on container labels, and bottle caps and numerous dyed cleaning agents, mix-ups are virtually impossible. An additional colour code indicates the specific cleaning performance: all products for routine, intensive and basic cleaning, and for coatings, are marked with an additional coloured strip.
From individual initial consultations, to the right product selection and the optimisation of your cleaning processes, to our service hotline – Buzil offers a wealth of additional services to ensure that you can always enjoy brilliant results.
The Buzil colour coding system

Areas of application in commercial cleaning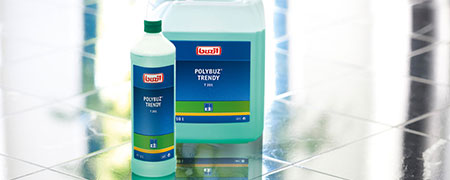 We'll get to the bottom of it.
Different types of flooring – whether it's PVC, linoleum, rubber, natural or man-made stone or ceramics – need different kinds of care in order to remain in optimal shape both aesthetically and functionally for many years. That's why the Buzil range is comprised of a wide variety of different cleaning and care products. This includes industrial products that are suitable for oil separators in compliance with the Austrian standard (ÖNORM), suitable solutions for sports flooring (DIN 18032/2) or for particularly high ecological demands. Buzil has everything you need to meet the challenges of daily maintenance, intensive and basic cleaning as well as handling different types of coating, the repair of conditioning films and special cleaning processes.
We can also deliver a number of trainings and specialist seminars, e.g. on flooring expertise and the different cleaning techniques and methods required for different types of flooring. Our comprehensive services from individual property analysis to creating bespoke cleaning schedules to property-specific dosage systems ensure that you will always be on safe ground when it comes to cleaning floors.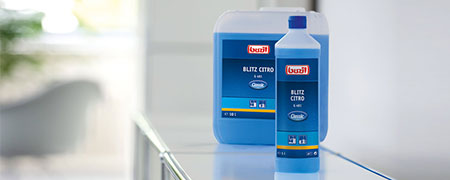 Brilliant solutions for any challenge.
Some are varnished, some are high-gloss, some are matt. Some are made of ceramics or glass, some of leather, metal or sensitive plastics such as acrylic glass and perspex. Like many other things in everyday life, surfaces come in many shapes and sizes. They all have unique characteristics and have to withstand specific stresses. This means that choosing the right cleaning product for each type of surface is absolutely essential.
From ready-to-use, highly concentrated or certified environmentally friendly all-purpose cleaners to glass cleaners, gloss surface cleaners and alcohol-based agents to plastic, furniture and leather care: Buzil offers the right solution for any requirement.
Our concentrated cleaners can be diluted to different extents depending on the level of dirtiness and the field of application. The correct dosage saves money and protects the environment.
Whether it's professional facility cleaning, maintenance or intensive cleaning, cleaning properties or industrial equipment – Buzil products always deliver a perfect result. Reliable, material-compatible, fast and streak-free.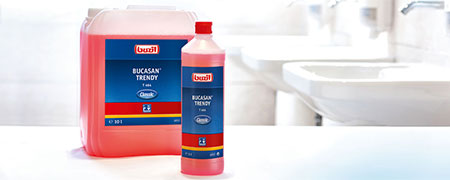 We make sure every surface comes clean.
Lime scale, dirt and soap residue, grease, urine deposits and other common types of soiling: sanitary areas such as lavatories, bathrooms, changing rooms, showers, washrooms, saunas and swimming pools pose particular challenges when it comes to cleaning, not least because various fi ttings from toilet bowls to taps to cupboards are often integrated. As well as largely acid-resistant materials such as stoneware tiles, ceramics, granite etc., they can also contain numerous acid-sensitive materials such as marble, terrazzo, grouting material or coloured plastic components.
The agents and methods used have to be perfectly matched to the facility, soiling and water hardness in question. This is a challenging task, which our versatile range of maintenance and basic cleaning agents will help you master for any sanitary and wet application.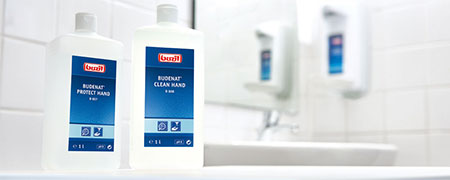 You're in safe hands with us when it comes to disinfection too
From routine disinfection of surfaces to regulatory decontamination actions, Buzil has over 100 years of experience in development, production and marketing in the fi eld of professional building and industrial cleaning, meaning peace of mind for you.
The performance of our highly efficient Budenat® disinfectant products is verifi ed by independent institutions as well as by recognised German and international listings and assessments such as VAH, DVG, IHO, RKI and EN standards. We also offer expert consultation and an established training and seminar programme. Moreover, Buzil will support you in creating personalised cleaning and disinfection schedules to meet statutory requirements. Our service hotline and comprehensive Buzil online service furthermore ensure that you can access fast and reliable information at any time of day.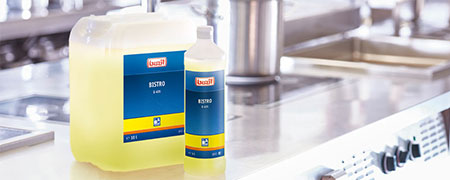 Sensitive environment. Safe solutions.
Kitchens and food facilities are among the biggest challenges for providers of professional cleaning solutions. After all, these areas are used to process as well as store food. Whether it's interim cleaning, end-of-day cleaning, basic cleaning or disinfection – meeting the stringent hygiene standards that apply to this sector will probably require special cleaning agents.
Other challenges that make achieving a satisfactory result that little bit harder include high temperatures, excessive moisture and stubborn stains such as oil and grease, burnt food residue, dried egg white or residue from grilling, baking and frying. In addition, the cleaning agents used have to be suitable for the materials in question, whether it's plastic, glass, anti-skid surfaces, chrome or stainless steel.
But even when it comes to these sensitive issues, Buzil always has the right cleaning solution in accordance with HACCP standards: from maintenance and intensive cleaners for floors and surfaces to cleaning agents for automatic dishwashers, cream cleansers, descaling agents and oven cleaners, whether ready-to-use, highly concentrated or certified environmentally friendly. And of course we will be happy to help you create cleaning and disinfection schedules in accordance with legal requirements.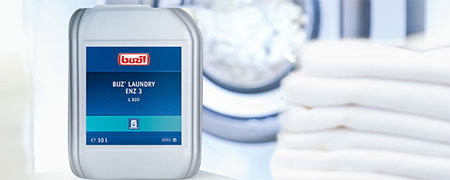 Now even more efficiency and Service for your textile laundry.
With Buz® Laundry you are getting the perfect product family for the professional cleaning of mop covers, cloths, bed and table linen, working clothes and towels. The whole Buz® Laundry product series has been designed as a modular system. This allows the washing performance to be adapted to specific requirements in industrial applications. The liquid application permits exact dosing of the products and allows them to develop their tried-and-trusted cleaning action even at low temperatures.
This way our laundry detergents offer you squeaky clean economic advantages: Thanks to optimized dosing, you now use 20% less detergent with Buz® Laundry Compact and Buz® Laundry Enz 3. The cleaning result is still as convincing as before – thanks to new measuring methods developed for the precise determination of cleaning performance.
Our Laundry service package, including planning, installation and support, is available for individual tailor-made dosing solutions. In practice, this means that following an inspection of your premises by one of our sales representatives, we will prepare an individual offer, which is exactly meeting your requirements. A qualified technician will assemble, install and set the system to ensure optimum efficiency. The Buzil service package is rounded off by a wide range of support services such as the regular maintenance service, service hotline and a fast breakdown response service.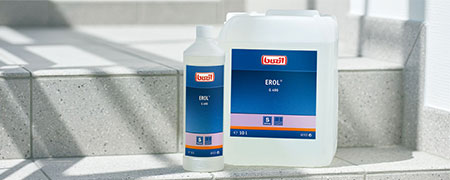 Special requirements? Not a problem.
Buzil's portfolio comprises more than 130 products, every single one of them the result of invaluable expertise and decades of experience. This means we can help our customers to meet almost any challenge.
Thanks to our special cleaning agents, Buzil has been able to make a name for itself as a sought-after development partner and well respected problem solver. Problem surfaces? Sensitive materials? We always like a challenge – the tougher, the better. That's why the Buzil "arsenal" of special cleaning agents comprises a wide range of innovative solutions that have been developed and designed for specific applications – from stoneware tile and carpet cleaners to odour eliminators, air fresheners, stone impregnation and defoaming agents for machines, stain removers and pipe and industrial cleaners to purpose-made hand-wash lotions.
So you have another exciting challenge for us? Please contact us, and we will be happy to discuss your requirements in detail!