International presence

BUZIL INTERNATIONAL
Progressive internationalisation also presents new business opportunities for Buzil. In addition to its German head office in Memmingen, the company has a powerful international network of branches, sales offices and business partners. Buzil has a strong international presence, with a subsidiary in Poland, a branch in the United Arab Emirates and sales offices in Benelux and the Balkans. Products from Memmingen are now delivered in more than 35 countries worldwide, and over a third of the goods Buzil delivers are exported, mainly via retail partners.
BUZIL ROSSARI PVT LTD, a joint venture between Rossari Biotech Ltd. and Buzil Werk Wagner GmbH & Co. KG based in India, was founded as a response to growing demand for cleaning and hygiene products in the South Asian region. Rossari Biotech Ltd. brings years of experience in the development, production and distribution of textile chemicals and detergents to the successful partnership, while Buzil offers an extensive expertise in the development of professional cleaning agents, more than 150 formulas, its long-established quality assurance system and extensive marketing, distribution and service expertise.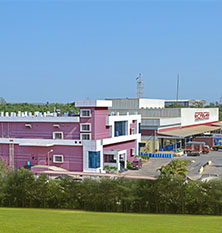 Exterior view Rossari Biotech Ltd.